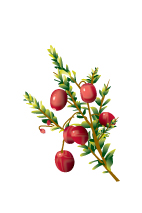 Cranberry Kitchen
Joe and Tami (Kaino) Peterson are the creators of the dried cranberries federal registered trademark:
bog bites
®
Our mantra is
"a big-bold-

bite

of cranberry

bog

"
Tami, 2nd generation cranberry grower, and her husband Joe purchased the family farm from her parents in 1996. Growing cranberries has been the family business since 1966. Celebrating over 55 years of cranberry harvests on the Northern Oregon Coast in Clatsop County. Oregon is definitely "Cranberry Country" one of the few states that grows America's Native Fruit. We are located in a coastal community near the ocean, therefore we've named our farm "Pacific Ocean Cranberries".
Our original 24oz. Trail Mixes and unprecedented Dried Fruit Blend Bags, $5 to $15, are extremely popular products. Cranberry Kitchen provides premium products at affordable price points.
Order by calling
1-800-cranberry
(272-6237) or emailing tami@
1800cranberry.com
. Please refer to our
price list
.
For the 2022 Farmer's Market Season our booth is currently scheduled in Astoria, Beaverton, Cannon Beach, Manzanita, Lake Oswego, Seaside and Vancouver. Our attendance is Astoria and Cannon Beach each week. Beaverton and Vancouver every other Saturday. Manzanita, Lake Oswego and Seaside select monthly dates. Please call for exact market dates.
Mix and match up to 4.5 lbs of product and we will ship anywhere in the United States for a flat rate of $9.
We truly appreciate your support of our Cranberry Booth, the reorders, referrals, and the many product compliments.

Thank you~~~Tami & Joe